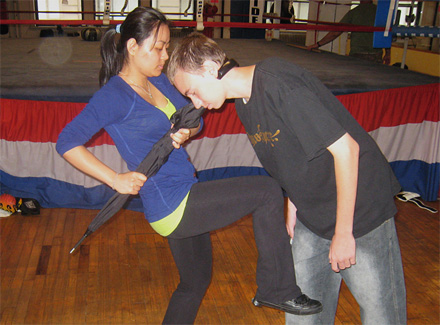 Self-Defense Umbrella

The Self-Defense Umbrella is one of those simple yet great innovations that make you wonder, "why didn't I think of it?" At first glance, it looks like any other umbrella with the exception of having a wider scoop at the handle. However when you pick it up you immediately notice the weight and sturdy nature of the umbrella - it's much heavier and stronger than any umbrella I've ever handled and that includes the heavy and expensive British umbrellas.

The greatest thing about this umbrella is that it really is a functioning umbrella. There are no secret weapons built into it. No knives, no twist-out spikes, only a legal and normal looking umbrella that works well. The length is 35-1/2" to the top of the crook handle" and opens up to a 43" diameter.

The handle comes in two versions: one is a wide crook handle similar to a walking cane made out of a sturdy ABS material and the other is a straight end with a wooden knob. I prefer the crook handle since I can hook an attacker around the neck or leg, just like a cane.

The shaft on both models is made of an ABS material as well. The stretchers are standard metal however they are much thicker than on a normal umbrella. The end-piece is a thick metal cap and more than capable of inflicting damage.

In general this is a perfect improvised weapon. The weight is such that you can easily disrupt an attacker, completely disorienting him. The best thing about this product is that you can use it as a shield against a weapons attack of any sort; it's that strong.

Tests:
Training to use this product is much easier than learning an unarmed self-defense program. Classical bayonet techniques work well but where this product really shines is with the Floro Universal Shield system (which I teach), it's simple and you can learn it straight off his video. see: http://www.florofightingsystems.com/

At $179 this product is pricey but what other improvised weapon can you legally carry in any city in the world AND on an airplane that can actually save your life?

This product can be purchased through wr@realfighting.com and comes with a fabric cover.